Service - Bentley
Singapore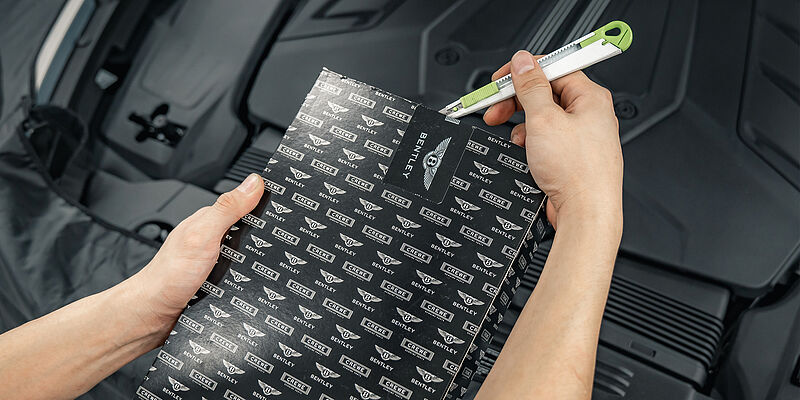 GENUINE BENTLEY PARTS
Car designs change. Technologies evolve. But one thing remains reassuringly the same, our genuine parts. Only genuine parts are used when carrying out maintenance or repair tasks on a Bentley and they are designed to the same quality as the parts fitted to the vehicle when it was originally created at Crewe.

Each is precision made – like the components of a fine movement within a Swiss watch – finished with meticulous attention to detail. They are also subject to rigorous quality testing and are engineered with performance and longevity in mind and come with a 24-month comprehensive warranty.

For more information or to contact our Parts Specialists, kindly submit your enquiry below, and a member of our team will be in touch shortly to discuss your requirements.
---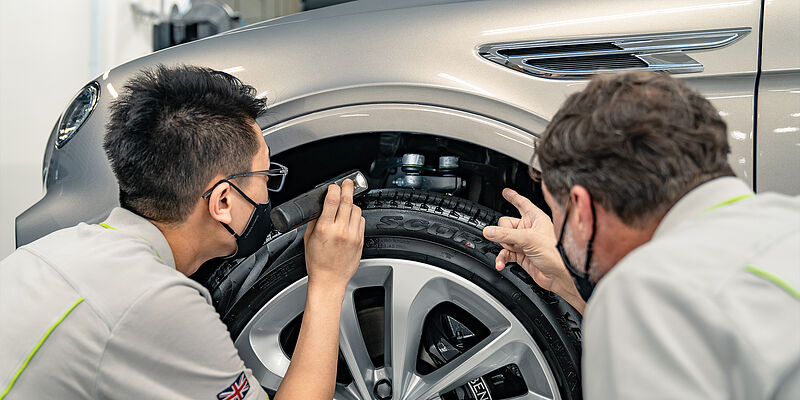 Service and repair
Regular maintenance is vital to preserve the performance and condition of your Bentley. At the authorised Bentley Service Centre, we are best equipped to manage the on-going care of your vehicle. Our technicians undergo extensive training at our factory in Crewe, enabling them to offer an uncompromising standard of skill and attention to detail, with access to the latest diagnostic equipment and technical support. All the work our authorised technicians perform on your car meets the exacting standards held by the Bentley brand. They keep your car performing as if it were new, regardless of age or mileage.

It is vital to ensure that all critical engine filters and perishable items are replaced at the right times, using only genuine Bentley parts. Regular fluid inspections and changes are conducted to help ensure the car is always kept properly lubricated, in all critical areas. Service should be carried out by an authorised Bentley Dealer either every 12 months or 15,000 km (whichever comes first).
---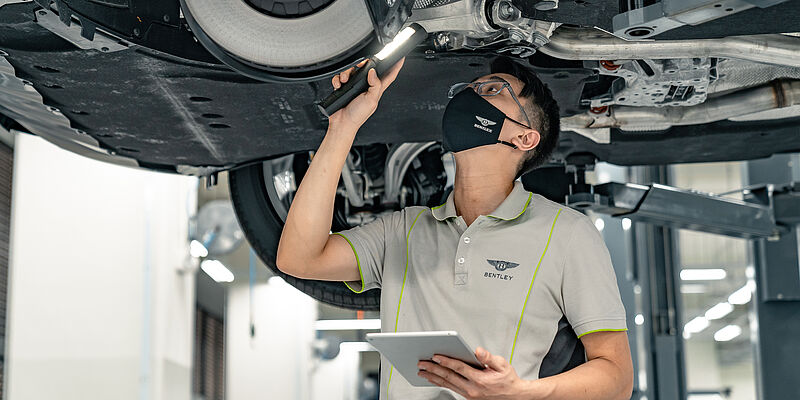 ALWAYS BY YOUR SIDE
There's no better place for your Bentley than in the safe hands of our certified Bentley technicians. Designed with you and your Bentley in mind, each service can be tailored to give your car the care and attention it deserves.

Have added peace of mind with the Bentley Extended Warranty and Service package. Rest assured that your Bentley is well taken care of with our 24 months unlimited mileage warranty, 2x routine service, complimentary set of car batteries, and more. Our experts will also conduct a vehicle health check to ensure your Bentley is performing as it should.

What's more, take advantage of our complimentary concierge service – where your Bentley will be collected from your driveway so we can perform this full suite of services while you relax at home, and be returned to you once it has met the exacting standards of our experts.
---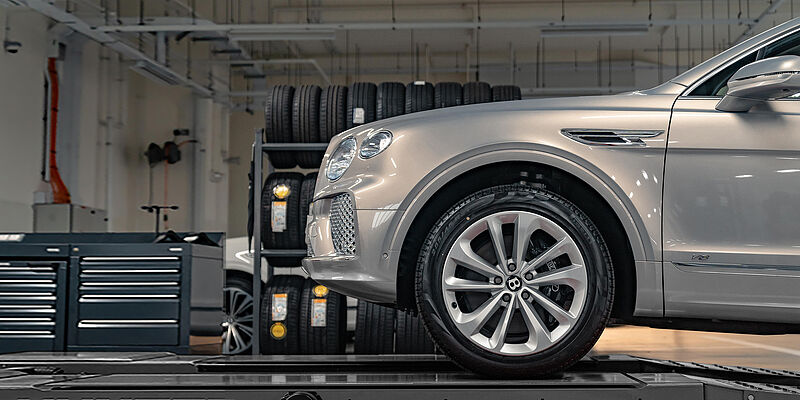 Roadside Assistance
Roadside assistance is available 24/7 and includes recovery and concierge services in Singapore and Peninsular Malaysia (excluding all islands except Penang).

Benefits available in Singapore:
• 24-hour hotline
• Concierge service
• 24-hour emergency towing to Bentley Service Centre
• Complimentary taxi service to the next destination
• Emergency message transmission to family

In case of emergencies, please contact our 24-hour Bentley Roadside Assistance at +65 6220 6025.
---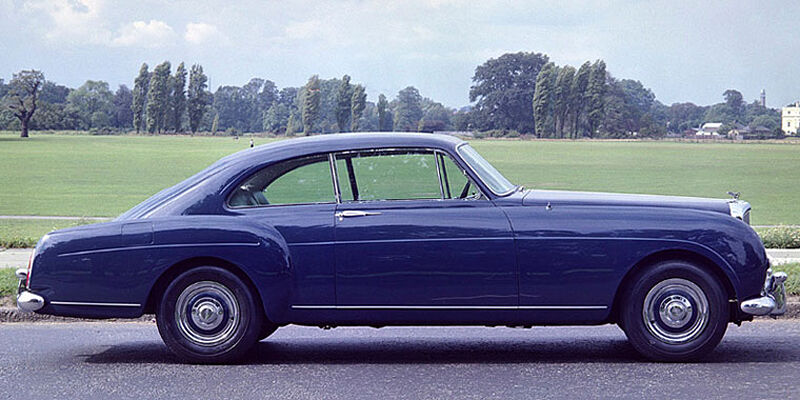 HERITAGE SUPPORT
All the heritage parts you need in one place

Bentley has created the perfect combination of the old and the new: an innovative way of cataloguing parts and components from a wide range of Crewe-built Rolls-Royce and Bentley Heritage models.

With the new Heritage Parts Website, we've devised a distinctly modern way of enhancing the classics. By bringing together a wealth of information onto one comprehensive website we've made sourcing the right parts easy. Everything you could possibly need has been digitised and catalogued for easy navigation - and it means the finest parts can now be accessed in the smartest way.

We think it's the only tool you'll need to find parts and components.

Find your part at heritage.bentleymotors.com.